The Tenerife Film Orchestra offers to our clients the latest and modern technology in recording systems, mixing and digital mastering, in accordance with the standard formats of the industry. We have the most complete technical infrastructure and, according to the type of formation to be recorded, we adapt the recording equipment to best meet the requirements of the selected profile.
Our team includes a group of highly skilled and well known sound engineers with a very wide experience in orchestral recordings.
Michael Kirby is the Orchestra Manager of the Tenerife Film Orchestra and the composer Diego Navarro is the Artistic Director and Recording Producer.
We have a higth quality technical equipment (Millennia, Manley, etc.), Apogee converters A/D, hight quality microphones like, for example, Earthworks, Neumann, Schoepps, AKG, Genelec monitors, etc. During the recording process we work with hard disk drives and Digital edition in Pro Tools HD-3.
Below you will find the musical biographies of Diego Navarro & Michael Kirby:
D i e g o N a v a r r o - A r t i s t i c D i r e c t o r & R e c o r d i n g P r o d u c e r
---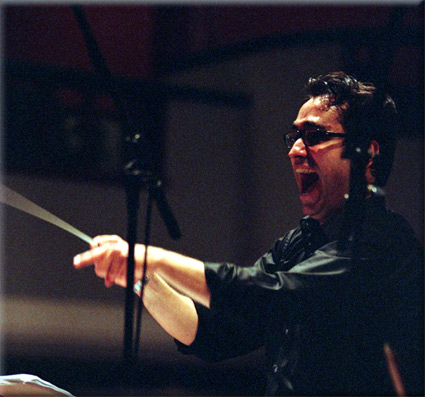 Born in Tenerife in 1972, Diego Navarro performs his first composition at the age of 13 and at 21 he forms and conducts his own orchestra. After some self-taught years in guitar and piano, he starts his official studies in Santa Cruz de Tenerife´s Higher Conservatoire. After three years he begins his studies with David Goldsmith and the Trinity College of London, obtaining the highest grades in his piano exams.

In 1996, the Berklee College of Music (Boston) one of the most prestigious contemporary music schools, grants him the "Outstanding Musicianship Award" together with a scholarship given by the Composition Department.

In December 2000 he passes the Advanced Certificate in Piano with the Associated Board of the Royal Schools of Music. It is important to outline his self-taught education in composition and orchestration.

Navarro, musician of great classical background and versatility, combines composition for both concerts and chamber music with film scoring. He has a wide background in audiovisual jobs such as television spots, short and documentary films. On June 24th 2000 Navarro performs his symphonic suite "La Tercera Cruzada", an ambitious and pioneering project and a tribute to adventure and epic films, obtaining again astonishing reviews from musicologist.

His job has been appraised and highly recommended by famous orchestra conductors such as Peter Maag, Antoni Ros Marbá and prestigious musicians like David Paul Martin, Ray Santisi, etc.

In 2002, Navarro composed, orchestrated and conducted the original soundtrack of "Time Gate" (Puerta del Tiempo), a cartoon film based on the drawings of Spain's most respected and prestigious illustrator: Antonio Mingote. Navarro has personally taken care of the whole musical production making the most ambitious original soundtrack ever recorded in Spain, with 120 musicians (orchestra and choir) and a crew of 10 different professionals between score editors, musical producers, sound engineers and technicians (130 altogether).

This work, edited by Filmscore, was a candidate for the 8th edition of the Music Awards (SGAE - SPAIN) in the category of "Best Film Score Album", given by he Spanish Music Academy.

In March 2004 during the 6th Film and Audiovisual Production Conference in the Canary Islands (Spain), he is granted an award for the composition of "Time Gate" and as a recognition of his career:

"...the orchestral composition of Diego Navarro, with 130 professionals, is considered to be

the most ambitious soundtrack ever recorded in the Spanish film market. This event is a

landmark in the history of music in the Canary Islands, since it is the first time that the

musical production of a national film is ever brought to the Islands..." (read the whole article

in Curriculum Vitae – Prizes and Awards).

Navarro has also been highly praised by specialised national and international press, including a great number of web pages (as you will see in www.diegonavarro.com / News) and, for example, the prestigious film music magazine, Film Score Monthly (U.S.A) which gathers in all its 2003 issues a list of shortly edited works. It is important to underline that Navarro is the only Spanish author in all 2003 lists, where you find among others artists such as Williams, Elfman, Zimmer or Silvestri. As you will see in his web page, Several music critics have highlighted influences of Williams, Goldsmith and Morricone in Navarro's own personal style. Currently, Diego Navarro is one of the most promising and outstanding figures in the film music field in Spain.

His two lasts works include a feature film called "Melissa P.", a Columbia Pictures coproduction between Italy and Spain, and the original soundtrack of the documentary film "Mira la Luna" (Look at the moon), directed by Eduard Bosch and produced by the famous Spanish producer Elías Querejeta. This film, wich spectacular scenes and with the colaboration of NASA, tells the story of an astronaut before and after the days of a real space mision with the Endevor Space Shuttle. His closely projects are, among many others, the feature film "Oscar. El Color del destino", an interesting drama coproduction between EEUU (Media Turner Productions), France (Destiny Films) and Spain (Estudio 1). The movie is a Biopic of Oscar Domínguez, a famous canary surrealist artist with a passionate life full of dramatic experiences.

For more information: http://www.diegonavarro.com

M i c h a e l G. K i r b y - O r c h e s t r a M a n a g e r
---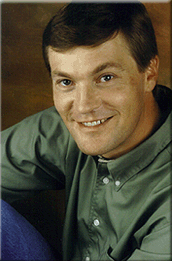 Michael Kirby was born in Hereford (England), in 1965.

He began his musical education at the age of eight, singing as a soloist in the renowned Gloucester Cathedral Choir, with whom he made several recordings and television broadcasts for the BBC and Eurovision. During this time he performed with the choir and as a soloist in the "Three Choirs Festival" working with orchestras and conductors of great prestige. On leaving the choir he received an award for his exceptional qualities as a Chorister. He also commenced his clarinet tuition at the age of eight.

At the age of thirteen he was admitted to the Chethams School of Music in Manchester (England). This academy is dedicated exclusively to the education of children with special musical talent. During his years there, Michael studied with Graham Turner, who was Principal Bass Clarinet of the Hallé Orchestra.
He moved to London where he continued his studies with Gordon Lewin, noted composer, saxophonist and clarinettist, and with Jack Brymer OBE. During this time he was Principal Clarinet in the Gloucestershire Youth Orchestra, the Cheltenham Young Peoples Orchestra and the Ernest Read Symphony Orchestra. Also at this time he began his career as a soloist with great success.

Michael continued his studies at the noted Guildhall School of Music and Drama in London under the tutelage of Jack Brymer OBE. It was here that he received classes from other teachers such as, Anthony Pay, Anton Weinberg, Andrew Marriner, Colin Bradbury, Gervase de Peyer and Angela Malmesbury, among others. As a member of all the orchestras of the Guildhall School he worked with conductors such as Henze, Handley, Leaper, Lubbock, Ashkenazy etc.

As a member of the European Community Youth Orchestra, he twice toured the continent visiting Spain, Portugal, Italy, Germany, Hungary, Austria and the Czech Republic. He performed with conductors Claudio Abbado, James Judd, Elibhu Inbal, Jesus Lopez Cobos and Lüz Köhler. Also at this time Michael was leader of the London Wind Ensemble that worked extensively with the BBC and also performed with the conductor Geoffrey Brand in London.

Michael has won many prestigious awards in England, Cheltenham Festival gold medal, Lloyds Bank / Bromsgrove Young Musician´s Platform and was a finalist in the London Symphony Orchestra Shell Scholarship.

Since 1987, Michael has held the position of Principal Clarinet of the Tenerife Symphony Orchestra and head of the clarinet department at the Conservatorio Superior de Musica in Tenerife. During his time on the island, he has participated in numerous chamber music concerts. He has been invited to perform in the Casinos of Santa Cruz de Tenerife and Puerto de la Cruz for their Chamber Music week. The Tenerife Symphony Orchestra has invited Michael many times to play as guest soloist during its regular season performing works by Neilsen, Mozart, Copland, Finzi, Weber etc., with conductors Edmon Colomer and Matthias Bammert, etc. As a member of the Tenerife Symphony Orchestra, he has worked with conductors such as Maurizio Barbacini, Gilbert Varga, Antoni Ros-Marba, Victor Pablo Perez. Phillipe Entremont, John Lubbock, Tomas Vasary, Ronald Zollman, Viktor Liberman, Krysztof Penderecki etc.

Michael is also a teacher in the Tenerife Symphony Orchestra Academy where he prepares his students to become professionals and to work with the Tenerife Symphony Orchestra.

During the month of August 2000, Michael was invited to play as soloist with the Young Peoples Youth Chamber Orchestra in Buenos Aires, Argentina, and will be returning on numerous occasions in the near future. Michael will be performing many chamber music concerts during the official season of the Tenerife Symphony Orchestra 2000/01 and around the Canary Islands.
---
Presentation Tenerife Guimerá Theatre Contact News & links